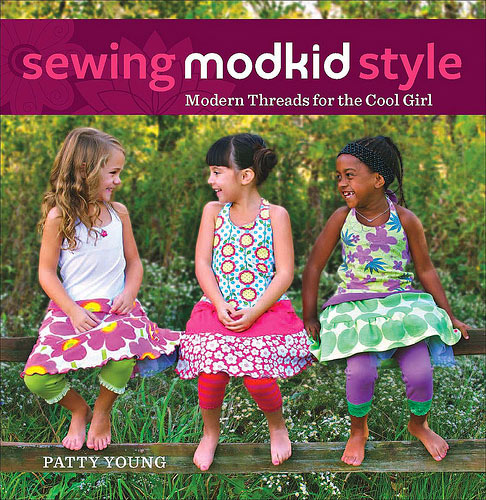 I'm excited to be part of the blog tour for Patty Young's new book, Sewing MODKID Style: Modern Threads for the Cool Girl. This book features 20 projects made with knit fabric. If you're like me and you have girls that are getting a little older and want comfortable knit clothes, this book is for you. Patty demystifies sewing with knits by giving you all kinds of helpful tips and suggestions whether you are using a regular sewing machine or a serger. You can even make many of the projects with woven fabrics if you'd like. The projects in this book are good standards that you can make again and again. See how Melanie made a couple of dresses here and Mary has been busy making things from the book here.
And of course Patty's collections of knits work perfectly with these projects. I used this fabric a few years ago and the thick knit is still strong with no fading. It really is tough to find good knits! Kim at True Up has a list of online shops where you might start. And look, Patty has a new collection!
Follow along with the rest of the blog tour:
Friday, April 27th: Sew Pretty Dresses
Monday, April 30: Prudent Baby
Wed., May 2: Our Busy Little Bunch
Friday, May 4: Fat Quarterly
Monday, May 7: Making It Fun
Wed., May 9: MODKID blog
To enter to win a copy of Sewing MODKID Style from Wiley, just leave a comment below by Saturday, April 28 at midnight eastern . This giveaway is open to residents of U.S. and Canada only. Thanks!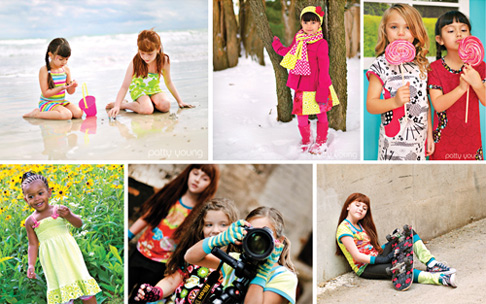 This book inspired me to finally crank up my serger that I bought in the fall from A Scarlet Thread. Since I've mostly been making quilts these past few months, I just haven't gotten to it. But, wow, I love my serger. It makes such fast work of everything. I'll be making lots more clothes for the girls now. I started on a version of the Bloom Dress as you can see below, just need some ribbing to finish the sleeves and neck. I had some white fold over elastic, but felt the white wouldn't work. This is a great standard dress pattern to have on hand. I'm also working on a Shirrley Tank Dress using a Liberty lawn print and I made a quick shirred dress using a Marimekko knit that my daughter can use as a swimsuit cover-up. Hope to finish the others and show you soon.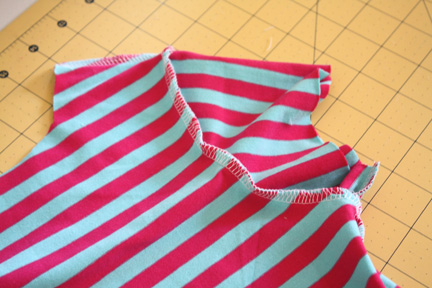 And I love my serger! I don't know how I've gotten by without one. I'd heard horror stories about how difficult sergers are just to get threaded, but this fancy Babylock is a breeze to thread. If you sew on a regular basis or in any professional capacity, I strongly recommend investing in a good machine, if possible. But I hear that IKEA is making a machine now. Anyone have one of those?