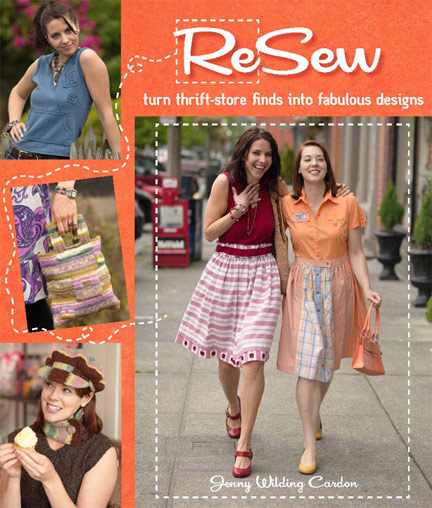 It's a giveaway today! Jenny Wilding Cardon, author of the new book ReSew: Turn Thrift Store Finds into Fabulous Designs, has offered a book for you. Her fun sewing book is all about transforming thrift store finds into your favorite custom creations, with 20 projects simple enough for a beginner. Thrifting is a great way to recycle old clothes, keeping your budget in check and reducing your carbon footprint. Her ideas will inspire you to think about clothes in a whole new way.
I asked Jenny a few questions about her inspiration for the book and about how to discover the best finds at the thrift store.
1. What gave you the idea for ReSew?
I started refashioning clothes when I was in high school. Aside from one sewing class I took with my mom in junior high (for making Bermuda shorts—that dates me!) I didn't have any sewing skills; just a young-hearted aspiration to make my own fashion. I would pick apart an item of clothing I already owned and try to recreate it in a way that was very simple, but unusual. I remember removing the bottom band of a shapeless black denim jacket, cutting it to a bolero-style length, and sewing the band back on. I made my friend Kristelli wear the new, super-short jacket to school. We called it the "Janet Jackson" jacket. ("Pleasure Principle" video, anyone? Anyone? Is this mike on?) She looked awesome in it, and she wore it with confidence. I would make my other friends wear stuff I made too, poor dears. Some of the designs were downright wacky—even hard to walk in! I lacked the confidence to wear my own stuff, but my friends were my biggest fans.
College is where I caught the thrifting bug, mostly out of necessity. That really broadened my possibilities for repurposing; what an eye-opener! Now I didn't have to only work with the items I had at home; I had stores full of stuff ready for experimentation. I think that's when the seed for ReSew was planted. I started the book idea with so many different variations. I had notebooks full of sketched-out projects. I had so many different titles! It was hard to narrow it down.
2. Do you recycle clothes for thrift or fun? Or both?
Oh both, for sure. I've always thrifted for fun—thrift-store shopping definitely has entertainment value! My husband left his career in retail a year and a half ago to pursue his lifelong dream of becoming an elementary school teacher. While he's finishing school, we're both working part-time. We're feeling the money crunch. Thrifting has really helped us stay within our budget without feeling deprived. We're still able to spend a little on fashion, or books, or furniture—or whatever surprising things you find while thrifting—without feeling like we're breaking the bank.
3. What are your tips for finding thrift store treasures? How much time do you spend each month looking?
I go thrift-store shopping once or twice a week—usually once by myself, and once with my two sons. When I go by myself I take a list that I keep on the side of my fridge, which I update regularly. Since you never know what you are going to find when you're thrifting, it's kind of like a wish list! When I get to a shop, I look for what's on the list. When I find what I want (or don't, as the case may be), I ditch the list and walk the aisles. Again, you never know what you are going to find, so take the opportunity to explore the whole store while you're there. I've found some of my greatest thrifted treasures by doing this faithfully.
When shopping for clothing and linens specifically, I do follow some practical rules. When you are considering purchasing clothing for yourself, always try an item on. It will help you catch any hidden flaws that are hard to see on the rack. When buying clothes for others, like children, make sure to snap all the snaps, button all the buttons, and zip and unzip all the zippers to make sure everything is in working order. It's maddening to come home and find that something doesn't work as it should—I've learned my lesson! So take the time to be an inspector of your goods. Same thing goes for linens. I like to take large items, like sheets, over to the furniture section and spread them out on a table to check for imperfections.
Also, keep in mind that thrift stores will likely mark down winter items in the summer, and summer items in the winter, to keep their inventory moving. Try shopping for the opposite season you're in for the best bargains.
And finally, as far as taking my boys—Jack, 6, and Charlie, 2—I do it so they can hone their own thrifting skills, and just for fun. They love it! I let them know that we can browse the toy aisle when I'm done looking, but they need to stay close and use "store behavior" to get to the toy aisle. ("Store behavior" typically means no running; stay on two feet at all times; and no hiding in the clothing racks. You can really lose 'em quick in there.) Once we hit the toy aisle, we usually either 1) Find something inexpensive for each boy to bring home; 2) Find a larger item for the boys to share (when that happens we all yell, "Jackpot!"), or 3) Go home with just the experience. I feel like it's important to teach my boys that just because you walk into a store doesn't mean you are obligated to buy something. Sometimes you walk away empty-handed. That's okay.
———————–
To enter to win a copy of the book, simply leave a comment on this post before midnight eastern Saturday (March 5). I will use the random number generator to choose a winner and announce the winner on Sunday. This giveaway is open to residents of the U.S. and Canada only. Thanks for playing!
And thanks to Jenny for offering the giveaway! Be sure to check out her blog The Wild Cards for more thrifting and sewing inspiration.