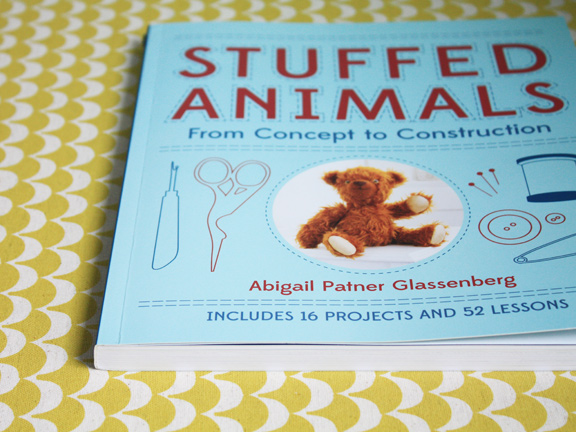 Today I'm writing about Abby Glassenberg's new book, Stuffed Animals: From Concept to Construction. I've been meaning to make a project from the book, but of course I haven't gotten to it yet.
I think this book does a fabulous job of actually teaching you how stuffed animals are made with 52 lessons, 16 projects and 30 pages of patterns. So if you want to design stuffed animals yourself, you can simply use the construction lessons and add your own ideas. And if you just want to make the stuffed animals exactly like she's done in the book, you can do that too. I really like books that teach you the "why" and not just the "how" of sewing. Abby shows you how different construction techniques will result in different shapes and how simple modifications can make a big difference in the finished design. When working with three-dimensional projects, I've mostly experimented with shapes through trial and error because I could never be sure about how something would look until it was stuffed. Abby helps take the guess work out of the process, allowing you to create the result you want with less frustration.
You can make these cute animals shown here, plus more:
Abby makes projects that are practical — toys that can actually be played with and loved, like her new Emma doll, made of washable fleece. She gives a lot of thought to how the toys will be used and the best ways to make them safe for kids. You can see below how she uses clear instructions to demystify the process. For instance, below she shows you how to install those stuffed animal eyes to give your projects a professional look.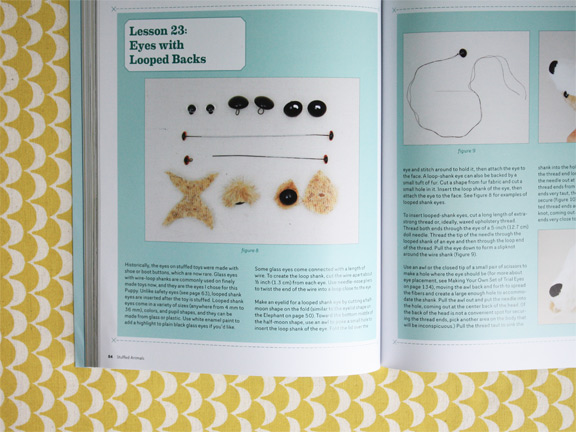 You can watch the book trailer here. Abby is also author of The Artful Bird: Feathered Friends to Make and Sew. And be sure to check out her blog While She Naps, where she writes informative and thoughtful posts about making stuffed animals and running a creative business.